The Exam You Don't Want to Fail
by Rochelle Griffin 

Have you ever gone into your doctor's office for your yearly physical exam thinking everything was great only to receive the news that your blood pressure is high, your cholesterol is elevated, or that your blood sugar is teetering on borderline diabetes? Personally I've experienced this myself when I discovered that my cholesterol was high. I had no idea and was really surprised. If this hasn't happened to you, AMEN, but there are chances are that you DO know someone who has. In our society today, these ailments are unfortunately commonplace and the medical solution is typically medication. 
As a RN, I've educated thousands of patients over 20 years that the best way to reduce your blood pressure, cholesterol, and blood sugar is through proper nutrition and exercise. But guess what? I was already eating well for the most part, working out, and at a normal weight…yet I had high cholesterol! Ok, I need to look at this and get real. 

I did have a few vices…coffee (and I mean a lot throughout the day) and the adult beverage at night. I also wasn't sleeping well, had let white flour & sugar creep into my food plan, and was fatigued by early afternoon. I refused to blame it all on my age of 40-something and turn to my doc for cholesterol medications and a sleeping aid. I can be stubborn.
Instead I turned to Ultimate Reset to give me a "tune up." I have to admit…even with my medical knowledge, I was shocked at my before & after lab results! It really worked!!! My cholesterol dropped 63 points in only 21 days!!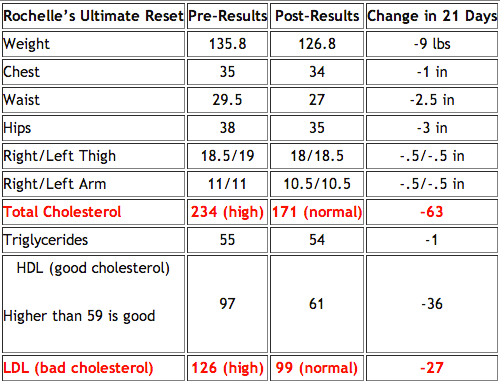 You may be asking yourself "What IS this Ultimate Reset?" Basically it's a 21-Day cleanse that's NOT a starvation diet and does NOT keep you running to the bathroom. In fact, I've had some of the best foods while on the program…so good that they still are part of my meal-plan repertoire, including Zucchini-Cashew Soup, Roasted Roots Medley, and Quinoa Salad.  Check out actual pictures of some of the foods that I made during the 3-week period: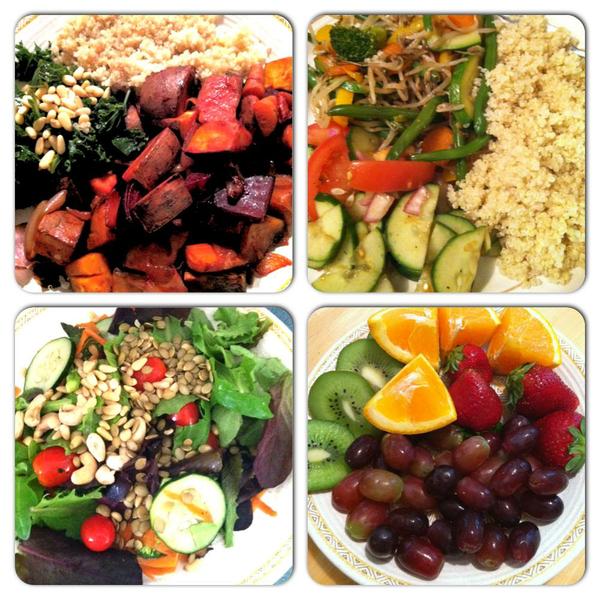 Well, here I am 6 months later and my unhealthy vices have slowly crept back in. No worries…I know exactly what to do. As I write, I'm on Day 13 of Ultimate Reset and am feeling fabulous again. I'm grateful to have a "reset" button that I can push when toxins begin to build up in my body. I'm now completely off of caffeine, sugar, white flour, preservatives, alcohol, and am feeling zero deprivation. I'm a happy girl.
I know that we are only in the beginning of December and you may not be thinking ahead to January yet, but it will be upon us in the blink of an eye. I'm running a special, private 21-Day Ultimate Reset Facebook Group starting January 2, 2013. It's a great way to ring in the New Year and kick-start those resolutions AND from
now until Wednesday, December 16, you can save $30 on the program
! You'll have it delivered in time to start immediately after New Years!
If you are feeling plain yucky for whatever reason…a doctor's report, holiday over-indulgence, whatever…give yourself a gift that will deliver results in 3 weeks. Even better, if you know someone who "failed" their last doctor's physical, give THEM the gift of health this season. It's a gift that won't be returned. 
To Living Your Best Life,
Rochelle Griffin, RN BSN FDN-P
Rochelle Griffin, The Wellness Detective™, is a Registered Nurse (with over 22 years experience) & a Functional Diagnostic Nutrition™ Practitioner who has transitioned her love for fitness, health, & freedom into a 7-figure International company that now helps others live Their Best Life.
She founded Your Best Life, Inc with her husband Keith after stepping onto the edge of physical ruin with her health & the health of their young son. Having experienced a complete turn-around, they now desire to give hope & support to those who are dissatisfied with their current situation.
PS. If you found this post to be of any value to you, please COMMENT below!